I was actually going to post tonight, and then guess what? It took me TWENTY-EIGHT hours of travel to get home from New Orleans to Madison, including a run-in with Air Force One. You know, the President's plane? Yeah, that happened so no post from me, which is probably a good thing for y'all because my friend Evan is about 10x funnier than me and loves Kathy Griffin. I'm just mildly funny and have been told I look + act like Kathy Griffin. Judge for yourself.
*     *     *     *     *
Making Real Life Friends Out Of Blog Friends
Hey, all! I'm Evan, The Wannabe Chef and I'm super excited to be writing this guest post for Holly not as a blogger but as a friend. I've been stalking reading Holly's blog for 2+ years now and finally met her in person last March. We had known each other so well by then that it didn't feel like a first encounter but rather a reunion between old friends. In fact, I've built many friendships like that with other bloggers and feel better just for knowing each amazing person.
I remember how daunted I was to even start a conversation with my favorite bloggers when I was new to the scene. "Would they even notice my little comment?" was a common thought I think a lot of people have. Quickly I realized bloggers, even "the big ones," are just people, too, and relatable ones at that. There's no real "secret" to sparking friendship, but based on my own experiences(and wild imagination) I've put together this helpful guide on how to befriend your favorite bloggers.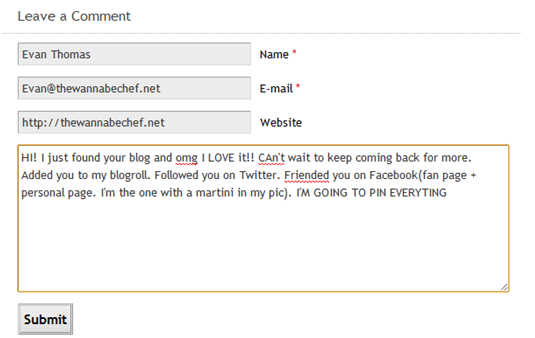 When you come across a blogger you particularly like, show your interest by leaving affectionate, borderline fanatic comments letting them know who you are, your blog URL, and potentially what you're wearing. You should become intimately knowledgeable about their life through their blog, memorizing all their siblings names, place of birth, high school math teacher's name, etc. Any piece of information you can find is fare game. 200 page clicks later, you'll feel like you've known this person you've never met your entire life. 

The next step is to start making casual conversation with your favorite blogger, whether through personal email or some social media account. Find a common ground to work with and build from there. "You ate oatmeal for breakfast? Shut up! I did, too!" Before you know it, you'll be up all night emailing back and forth about the steamy dates you just had… or the Sex And The City rerun on E! you're both watching while nursing a box of wine.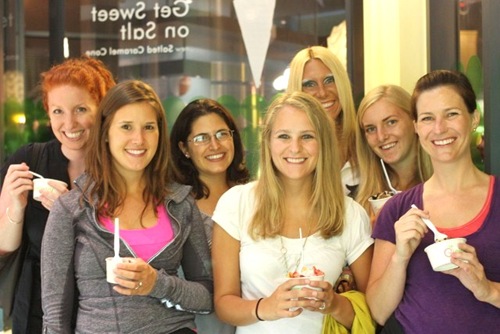 When you're ready to bring your bond outside of the internet, set up a date, preferably with a large group of bloggers so as to not intimidate your prey. Self-serve frozen yogurt establishments are the watering hole of the healthy living blogger species. They tend to migrate in herds from shop to shop, rehydrating 2-3 times a day with flavors like "Cake Batter Oreo" and "Peanut Butter Pretzel." In this environment you're free to observe and make conversation without startling the group.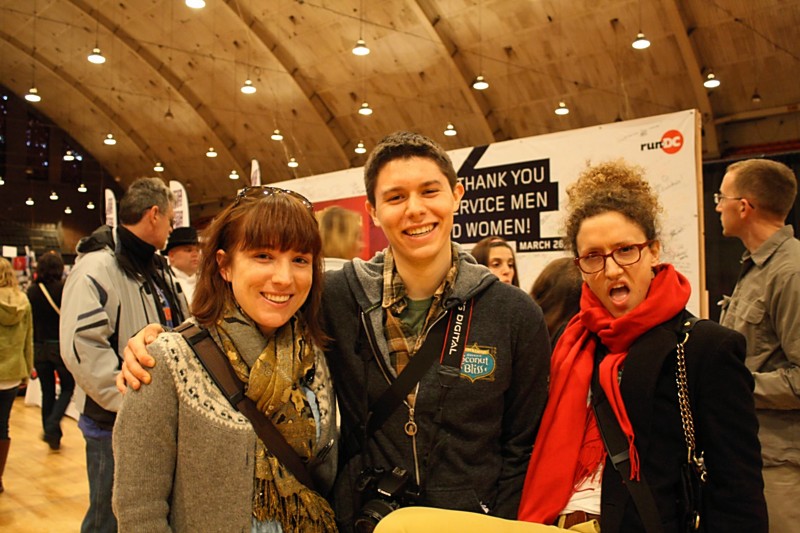 When you finally meet your blogger one on one, don't go up to them and introduce yourself casually or say "Hi." Instead, jump at them with full force. If they support your body weight without dropping to the ground, you know it was meant to be (***side note: Holly here – that is exactly what I did to Evan when we met in D.C.!).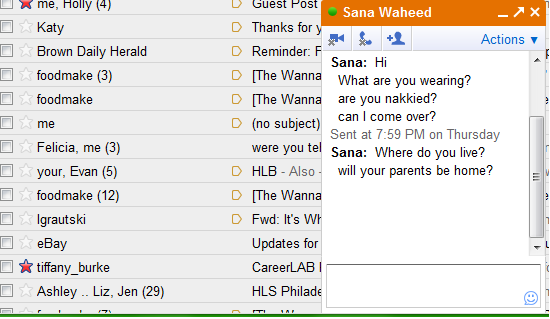 After the date's over, follow up with obsessive g-chats whenever you see the other blogger on. If they don't answer immediately, just keep messaging until they respond or sign off. They'll appreciate the persistency and recognize it as a sign of a true friend.
And last but not least, try not to get too jealous when your blogger friend starts hanging out with a homewrecker another blogger friend.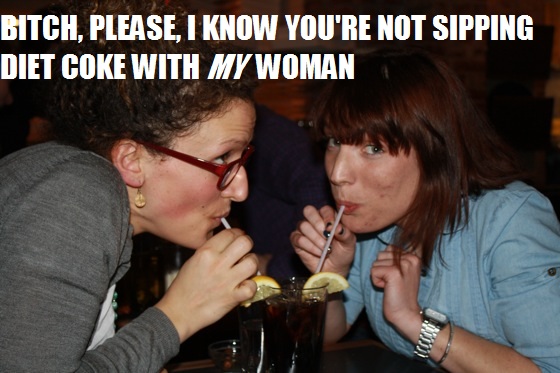 If you could spend a day with any blogger, who would it be and where?